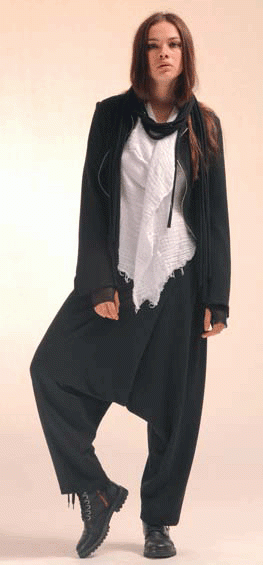 Om La Stampa
La Stampa is Living the Brand 
"Of love and respect for the entire staff of La Stampa International Fashion House I have chosen to write this in english."
After nearly 30 years in the branding and marketing business, I have come across many different companies and organizations putting great effort into the vision of "living the brand". I believe this is what La Stampa has achieved. And all this came out of one woman and her staff never letting go of the vision.  I discovered La Stampa's secret: they do it with love coming from within – and they make it seem easy. Of course, the way to success has not been easy, but working with tools like true love and commitment makes it sure that nothing is impossible.
Watching Eugenia Vamvaka and Vanessa Lappa packing clothes, trying new models, discussing each and every detail, involving every staffmember, gives you the insight of what humanity can achieve working together. Of course, as any company they have a CEO, Design Director, Production Manager, Sales Manager, Legal Department and Logistics Department but there are no fixed rules, they work side by side, with different areas of responsibility and great respect for each others skills.
Dream or Vision
It all started with the vision of making clothes that would make every woman confident of her body. The vision included that the clothes should fit without effort, feel comfortable, and the fabrics should be of high quality, soft and natural. A woman, leaving a La Stampa shop, should feel love for herself and her body. And without spending a lot of money. Imagine the feeling of walking into a shop and coming out with fantastic clothes without knowing anymore which size to wear. I suddenly became a woman with the freedom of not judging my body from a size perspective. Today, as a "sizeless" person I feel fantastic not knowing my size. Who cares?
One Woman 
The founder and President Eugenia Vamvaka, comes from a family who for generations produced mens clothing. Growing up she found it difficult finding clothes for herself so in the year of 1986 she started La Stampa. The design department has since then been the "stage" for the most promising fashion designers. Since 2011, Mary Michailidou is chief of the Atelier , launching all new collections with success.
Shape or Size
La Stampa has their own way of sizing women. Covering as many different shapes and sizes as possible- from XS to XXXL- is not a piece of cake. But they truly set themselves up for the huge challenge and finaly they turned up with the La Stampa "magic formula".
100% made in Greece 
All fabrics are chosen with great care, and everything is produced 100% in Greece. High quality wool, cotton, linen and other fabrics come from nature. Some fabrics have just a touch of, for example, elastan. All this put together results in very soft and light clothes bringing out the feeling of weightlessness.
Thought of combination and style
The cuttings strive, in every design, detail, shape and size to bring out every woman's unique beauty, whatever bodyshape. I also know that it is something you have to discover for yourself. The work and effort that is put into making creative clothes, succeeding to combine sizes, colors, and design, is truly amazing. And this even works across the collection from different seasons. Words and feelings like creative, sensual, classic, fashionable, comfortable, content, love, pride, honesty easy come to mind.
Inhaling the Breath
La Stampa also involves themselves with ANASA (www.anasa.com.gr), which in the greek language means breath, and is a non profit organization working with issues regarding eating disorders. Events, happenings, and other activities join them together with the purpose of making a statement for women and their health.